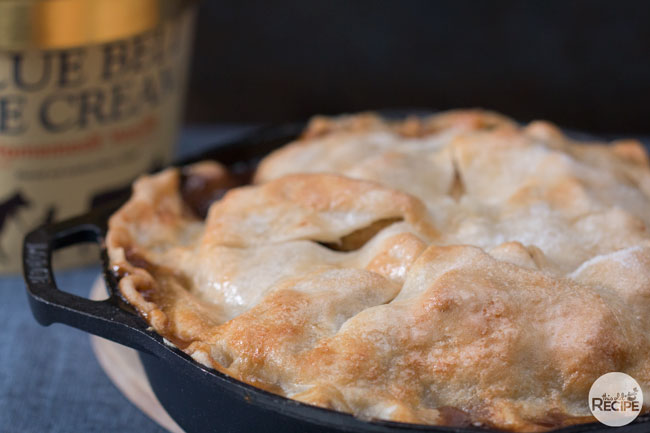 There are many recipes for your cast iron skillet.  This American Classic happens to be one of the easiest around.  Select your choice of apples, combine with sugar and cinnamon and a flaky, sugared crust…everybody will love it!
This dessert is piled high with fresh apples and baked in that cast iron skillet that we all seem to have in our cupboards.  No need to make your own dough!  Just use pre-made refrigerated pie crust from the grocery store.  It really is that easy.
When I made this, I used all Granny Smith apples, but really you can pick your favorites and mix and match for your own personal touch to this recipe.  One hint:  As I poured my apple mixture into the pie, I noticed juice and accumulated in the bowl.  You may want to drain this juice before you pour your apples into the pie so it won't be at juicy when it's cooked.
Remember to get your favorite vanilla or butter pecan ice cream!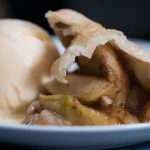 Cast Iron Apple Pie
Use your cast iron skillet to make this easy apple pie. Just toss apples, cinnamon sugar and buttered brown sugar, use a refrigerated pie crust and presto! You and yours will be enjoying this American Classic with tart apple and flaky crust in no time. Remember the ice cream!
Cuisine:
American, Cast Iron, classic
Ingredients
2

lbs

Granny Smith Apples

2 lbs

lbs

Braeburn Apples

1

tsp

ground cinnamon

3/4

cup

granulated sugar

1/2

cup

butter

1

cup

light brown sugar

firmly packed

1

pkg

refrigerated pie crusts

14.1 oz

1

egg

white

whisked

2

tbsp

granulated sugar

1

scoop

ice cream

your choice of flavor
Instructions
Preheat oven to 350F. Peel apples and cut into 1/2-inch-thick wedges. Toss apples with 3/4 cup sugar and cinnamon.

Melt butter in a 10 inch cast iron skillet over medium heat; add brown sugar and cook, stirring constantly, 1 to 2 minutes or until sugar is dissolved. Remove from heat and place 1 pie crust in skillet over the brown sugar mixture. Spoon apples mixture over pie crust. Top with remaining pie crust and pinch edge. Whisk egg white until foamy. Trust top of pie crust with egg white; sprinkle with 2 tbsp of granulated sugar. Cut 4-5 slits in top of crust for steam to escape.

Bake at 350F for 1 hour to 1 hour and 10 minutes or until golden brown and bubbly, shielding with aluminum foil during last 10 minutes to prevent excessive browning, if necessary. Cool on a wire rack 30 minutes before serving. Serve with vanilla or butter pecan ice cream.